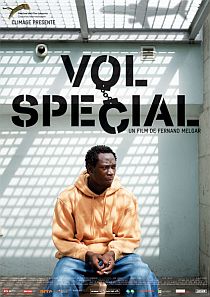 Fernand Melgar, director and Elise Schuss, assistant director and executive producer, represented "Vol Spécial", and hosted an extremely interesting session about how their strong social documentary came to life. And after-life: 1 year of editing, 160 hours of material, more than 400 articles about the film and its issue in Swiss newspapers, succesful cinema release, after some fight with authorities screenings for students in schools, in a couple of months synchronised broadcast of the film on arte and Swiss tv channels followed by debate, the set-up of a webdocumentary version, also for arte, with interviews and texts AND the couple is right now following several of those characters, who were put on a direct flight back to their homeland because of the swiss law of them being illegal workers. That is to be a sequel to "Vol Spécial". Respect for that work and that commitment!
"I am a witness", said Melgar, who also called himself "a silent collaborator". The film crew established a strong connection of trust to both the staff and the inmates at the detention centre. They actually got the keys to what is a prison so they could go in and out as they wanted. They had to stay neutral, of course, with their observational style, which for instance meant that they knew the day before who would be taken for the special flight. An information they were not able to pass on to those who had to leave. But they knew who was to be filmed. Every day, after the shooting, the crew sent the recorded material back to the editor, who watched it and gave feedback.
Does a film like this change something? Of course a difficult question to answer but "Vol Spécial" has raised debate and in one case, where you see a man in the film being released, the filmmakers were sure that this was because of the filming of an interview performed by a policeman. The released man is now going with the filmmakers to screenings to put even more focus on this not-only-Swiss-situation where people, who have committed no crime, but work illegally,sometimes for years, are locked up in a detention centre (the filmmakers mentioned there were 350 camps in Europe, with 40.000 detainees).
Now it's time for some sports, says the nice sympathetic guard whenever there are emotional outbursts among the detainees…
http://www.magnificent7festival.org/home.html
www.volspecial.ch