Magnificent7 – Asylum Seekers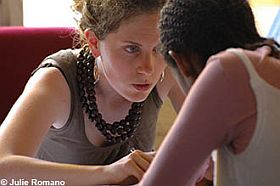 Take a look at the photo. The young woman leaning forward is Caroline. She is a social worker at a reception centre for asylum seekers in a municipality of Paris. The woman with her back to the camera is Zaleh, she is Sudanese, pregnant, and has come for help. Caroline is good at her job – from a bureaucratic point of view, but when it comes to deal with the asylum seekers as human beings, she has no idea.
"The Arrivals", by French couple Claudine Bories and Patrice Chagnard, awarded with the Golden Dove at DOKLeipzig 2009, is an impressive and masterly done direct cinema documentary about the European political and social problem number one: Immigration. In this case told through the observation of people on each side of the desk – the seekers and the helpers. Apart from a couple of small tours in the streets of Paris, the scenes in the film are all shot inside the small offices of the centre or in the bigger room, where the first registration takes place. The characters are Ethiopians, Mongolians, Sudanese, Sri Lankese… and then there is Caroline and Colette, who is the motherly social worker, who is constantly over budget but finds her ways to solution.
It is touching, you laugh and you cry, and you think while you are watching one humiliating moment after the other. At an excellent session the two French filmmakers invited the audience to get an insight to methods of filming and reflections on the profession of being a documentarian. The camera was integrated in the room, they never forgot that they were filmed, and we did not want them too, said Chagnard. At the beginning – the first out of 4 months of shooting – we lost the power, we were too quick and they did not really trust us, but gradually we achieved our "authorisation intérieure", which is the most important, because when you have that, the reality organises itself, and you have the patience and the courage to wait. This is an important humanistic, creative document about a European reality, that could be everywhere where people come and aim at a better life than the one they had. And it shows the strength of the observational style combined with time and cinematographic skills.
France, 2009, 111 mins.