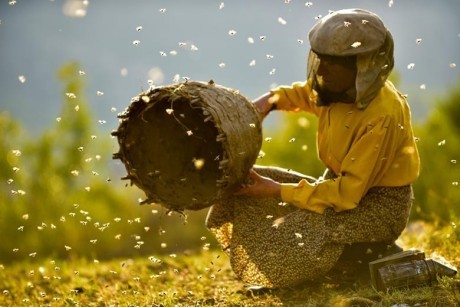 So there it is, the program of the 15th edition of the European Feature Documentary Film Festival that takes place from April 9 to April 15 in the Kombank Hall cinema in the centre of the capital of Serbia. As usual I will be there to join my dear friends and co-selectors, the festival directors Svetlana and Zoran Popovic, at the festival that I always talk about as "7 films, 7 days and 14 restaurants", the latter referring to the fact that the organisers know how to treat their filmmaker guests as Kings and Queens!
Here you have the list of the films to be screened:
Honeyland, North Macedonia, 2019 – Tamara Kotevska & Ljubomir Stefanov
Bridges of Time, Latvia, Lithuania, Estonia, 2018 – Kristine Briede & Audrius Stonys
What Walaa Wants, Denmark, Canada, 2018 – Christy Garland
I Had a Dream, Italy, France, 2018 – Claudia Tosi
Buddy, The Netherlands, 2018 – Heddy Honigmann
Gods of Molenbeek, Finland, Belgium, Germany, 2019 – Reetta Huhtanen
The Earth, Austria, 2019 – Nikolaus Geyerhalter
And the list of guests, who will be there at the screenings and take part in the Q&A after, as well as the workshop the day after.
 Atanas Georgiev, producer and editor of the film HONEYLAND
 Samir Ljuma, cinematographer of the film HONEYLAND
 Kristīne Briede, co-director of the film BRIDGES OF TIME
 Audrius Stonys, co-director of the film BRIDGES OF TIME
 Uldis Cekulis, producer of the film BRIDGES OF TIME
 Anne Köhncke, producer of the film WHAT WALAA WANTS
 Claudia Tosi, director of the film I HAD A DREAM
 Monique Lesterhuis, researcher of the film BUDDY
 Reetta Huhtanen, director of the film GODS OF MOLENBEEK