Magnificent7 Closing/ Sanna Salmenkallio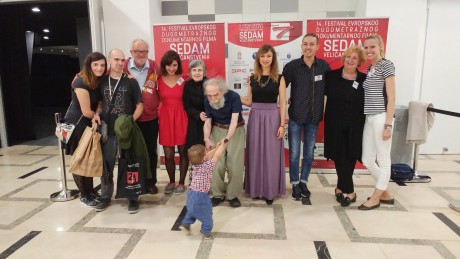 The closing film of the 2018 edition of the Magnificent7 Festival for European documentaries in Belgrade was Finnish "Entrepreneur" by Virpi Suutari with music composed by Sanna Salmenkallio, who was there to introduce the film that had the highest amount of spectators of the seven magnificent films shown, 876, in the new venue of the festival, Kombank Dvorana at the centre of Belgrade on the Nikola Passic Square – Pasic (1846-1926) was prime minister of Serbia and Yugoslavia and mayor of Belgrade.
Sanna Salmenkallio talked briefly about the film, received on behalf of the director Virpi Suutari the traditional BelMedic Award, a diploma and money, and was welcomed by a local violinist, who played a piece from the film´s music score.
And I – with the 875 other spectators – sat down to enjoy the film with a
special ear for the music. I am very often disappointed with music in documentaries but in this case I loved the way the composer added to the mostly staged scenes in a film that is sooo Finnish, meaning surprising in its mix of lovable and absurd scenes.
In the two hour workshop the next morning Sanna Salmenkallio told how she got into composing after having played violin. "I started with violin, had two children, got divorced and had no time to go out to play violin. So I turned to composing", she said with a smile. "And then came Virpi Suutari and it became very natural with film after dance theatre and opera". "The first we did together was "White Sky" and after that "The Idle Ones" (both together with Susanna Helke). "You have to be a kind of midwife", she said, "and I am very nerdy…". "If I am to make music for a film about Chechnya, I read all I can get hold of, topic is crucial for me". "If I don't believe in a topic, I say no to a job offer".
There were many words on the collaboration with Pirjo Honkasalo on "The Three Rooms of Melancholia". "Pirjo is my film school", she said, and explained how the two of them came to use a contratenor voice for the film. "Now I understand that the contratenor is the main character of the film", Pirjo Honksalo said after the film was finished.
"Garden Lovers", that was shown at Magnificent7 festival in 2015, has a funny background story. "Virpi called me and said she wanted to use bossanova music in the film. She wanted to buy some but it was far to expensive, so could I compose some…". "I did but quite a challenge it was as I come from classical music!"
Sanna Salmenkallio showed clips at the workshop. One was from a film, "Elegance", that came between "Garden lovers" and "Entrepreneur". It is about rich men who goes hunting, among them a top executive from Nokia. There was money for three instruments, we went for baroque music – and the scenes we saw were both scary (the act of killing) and satirical in the way the rich men's world were depicted in image and music.
"I'm looking for the tone of the film and when that is found/has been chosen I can move forward ", she said. "The opening is the most complicated and therefore often the last to be decided upon". "I'm composing for the movement" was another interesting comment from Salmenkallio.
Sanna Salmenkallio, who is a big fan of Bernard Hermann, the composer of Hitchcock's "Vertigo", whose partiture she has studied in detail, did the recording of the music for "Entrepreneur" with a symphony orchestra in Bratislava, "it was possible because I had the notes and because I was producing while the recording took place. Virpi was with me, it was very intense and I had to ask her not to talk…". "Of course it is totally unfair to a director, who has ben working for a couple of years on her film, for a composer to come in and record the music in 4 hours!" "But I think we succeeded, the film has an inner soul".
Sanna Salmenkallio, who is now busy working with prisoners doing "documentary theatre" and is composing music for "Hamlet", ended up showing us a 7 minutes short from 2017, "Nocturne. Ali and Sanna", shot by Pirjo Honkasalo, Ali sings, Sanna plays violin, wonderful. "I'm studying Arabic music", she said.
Brilliant meeting with a brilliant artist.
Photo from left taken at the closing night, the festival team, almost all of them present: Ana and Nenad Popovic, the parents of the small boy Bogdan, who is playing with the stick of his grandfather, Tue Stin Milleric, Ema Teokarevic, Svetlana and Zoran Popovic, Milica Novkovic, Aleksandar Mitrovic, Nevena Djonlic and Lea Vahrušev.