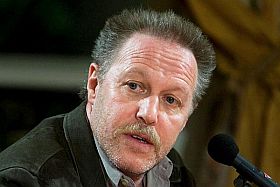 Last night was the screening of Nicolas Philibert's "La Maison de la Radio". The director went on stage with festival director Zoran Popovic, for the second time in the history of the 10 year old festival. In 2011 he presented "Nénette", the orangutang, who, by the way, Philibert told us at a lunch, is still alive, gets up in the morning when the zoo opens and goes to bed when the zoo closes. A real performer!
We had expected that a film about a radio station would not attract the young part of the audience, we were wrong, the hall was full, as was the vip room afterwards, where the q&a sessions take place, around 30 people were there to listen and ask questions. Philibert talks so good about his view on documentaries and about his method, that you just sit down and write down some of the sentences from him:
"What I like about radio is the absence of images". My challenge was "how to make a film about radio without shattering the mystery". "I love their (the workers) continuous demanding – their trying to do their best". He has a very positive approach to radio. "Here you find authors and philosophers, who never appear on television."
Philibert filmed in Radio France for ten weeks spread over 6 months. The station has 5000 people employed and 70 studios. It is a public service institution, and is thus, for the director, a small mirror of the society. He did not want to make a film that was "trop daté" and refrained to give the Arab Spring and Fukushima too much space even if those were the hot issues during his time of filming.
About documentaries in general, Philibert pointed at the danger for normalization of the genre, "it has to constantly renew form and shape", he said in a visual clip, made when he was in Belgrade with "Nénette". A clip that answers the question "what is a documentary for you", put to all directors who in the ten years have visited the Magnificent7 Festival.
Tonight follows "Everyday Rebellion" by Austrian Riahi Brothers.