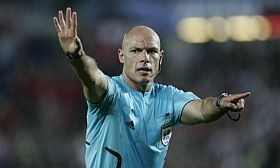 A quote from my welcoming words for the Magnificent7 Festival:
What is a good film festival? You will not be surprised when I answer that question by saying: Come to the 6th edition of Magnificent7! Again we – Svetlana and Zoran Popovic and I – have done our best to compose a programme that we are sure will apppeal to you. You will learn about the troublesome, yet fascinating work of a piano tuner in "Pianomania". You will – for the first time, I guess – get an insight to the even more troublesome profession of being the man in black in the football film "Kill the Referee". You will laugh and cry with the charismatic Finnish characters in "Living Rooom of a Nation". And maybe shake your head in despair when you see how we deal with immigration in Europe, in "The Arrivals". And enjoy the beauty and life simplicity up in the North of Sweden in "Way of Nature". Precisely the same you might feel being in the company of wonderful people who have chosen to live far away from the urban landscape, in "Below Sea Level". Last but not least you will be touched by the honest and intimate search for his father that the director performs in "My Life With Carlos".
Three of the films have been reviewed on this site – type the titles under "search": The Living Room of a Nation, Kill the Referee, Below the Sea Level.