Magnificent7 Starts Tonight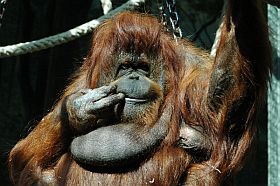 It is below zero but sunny here in snow-white Belgrade where the 7th edition of the Magnificent 7 European feature length documentary festival kicks off tonight with two opening films on the programme: "Nenette" (Photo) by French veteran master Nicholas Philibert and "Blood in the Mobile" by Danish Frank Piasecki Poulsen. The organisers, Svetlana and Zoran Popovic, filmmakers themselves and teachers at their own film school Kvadrat, are welcoming the guests and the audience in the usual atmosphere of warm hospitality and generosity that is also conveyed by their young staff of filmmakers. As part of the selection team I was interviewed yesterday and asked why the audience seems to be growing from year to year. Yes, why, well first of all because of the reputation of the festival to bring quality to the audience – and because of the (overall?) interest in the creative documentary that is also evident here. It is cool to watch documentaries and to talk about them.
And it even more cool to meet people who have attended all editions of the festival and who remember a film shown 5-6-7 years ago.
Must be a sign of quality of the film in question. For that reason and to celebrate the 7th edition the organisers made a competition where Magnificent7 afficionados could vote for which film they would like to have screened again. The three winners – to be screened this coming sunday – were "Pianomania" by Lilian Frank and Robert Gibis, Anna Bucchetti's "Dreaming by Numbers" and "Black Sun" by Gary Tarn.