Magnificent7 – Striptease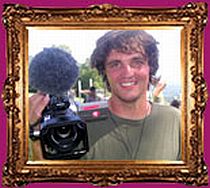 Eric Cardot is in Belgrade because of his co-direction of "Kill the Referee". At a session with young filmmakers from Serbia, he revealed how the film came about. It was the football association UEFA, that wanted the film and addressed the producers of the – in Belgium and France – very well known tv series Striptease. UEFA wanted human stories to be conveyed to the audience, and not necessarily a defense for the profession of being a referee.
To illustrate to the seminar participants what is Striptease, Cardot showed a 13 minute long Striptease episode about the production of kosher wine, amazingly funny because of the characters and atmosphere of presence. For the series – Cardot has made 10 of them – 800 episodes have been made starting at primetime at the RTBF, Belgian television, and developed by Marco Lamensch and Jean Libon. The series is now run by French television since 1992, in Belgium it stopped in 2002. The broadcast often ends up with scandals for the involved as Cardot himself explained and showed with a clip from a four hour long series called "Police et Polissons". A policeman attacks a youngster in his office, verbally and physically in a scene that resulted in the sacking of the policeman after its broadcast. Very much direct cinema style!
Striptease is out on dvd in boxes published by the distributor MK2.
http://television.telerama.fr/television/27354-rencontre_avec_marco_lamensch_et_jean_libon_les_createurs_de_strip_tease.php