Magnus Gertten: Håbets Havn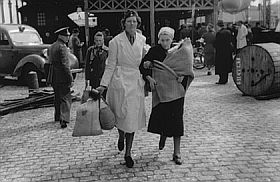 Den svenske instruktør Magnus Gerttens mesterstykke "Håbets Havn", som er anmeldt på engelsk på filmkommentaren, bliver vist på DR2 på onsdag den 25 kl. 20.30 i en én-times udgave. Og på SVT2 dagen efter, den 26, kl.20 med flere genudsendelser.
Her er et klip fra den begejstrede anmeldelse af en film, som er ganske enestående: It is brilliant. With a classical approach and with a fine balance between conveying information and creating emotions, the film lets three holocaust survivors tell their story, starting from the time point where they arrive with the Red Cross buses from the camps to Malmö – going, in a fine montage, back in time to what happened before and afterwards.