Maite Alberdi: The Eternal Memory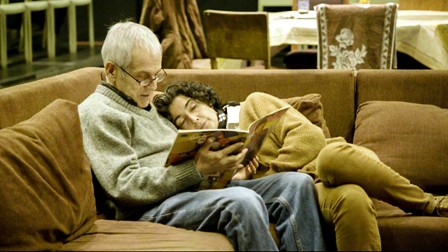 Take a look at the top page photos, Chilean director Maite Alberdi is the one to the left. A true documentary star, whose films "Tea Time", "The Grown-Ups" and "The Mole Agent" have been praised on this site. Her new film "The Eternal Memory" has been awarded many times. I have chosen to bring the fine annotation of CPH:DOX, here it is:
Beautiful and genuine, this Sundance winner from Chile is an intimate account of a woman's deep love for her husband, who is slowly losing his memory. An audience favourite and a contender for most beautiful love film of the year.
Paulina and Augusto have been together for 23 years. She is a former Minister of Culture and an actress. He was a popular TV journalist for many years. They live in the beautiful house they built together many years ago. It is filled with memories that Augusto is slowly forgetting. For he has Alzheimer's and his memory is leaking out of him until he can't even recognise himself in the mirror. But even though Augusto is alone in his head, Paulina is constantly by his side. The more he forgets, the more her love for him grows, because even though he forgets, her feelings remain the same. 'The Eternal Memory' is a touchingly beautiful film about the love of two people cast in the purest form. A deserving winner of this year's Sundance Festival.
Chile, 2003, 85 mins.
Still: CPH:DOX