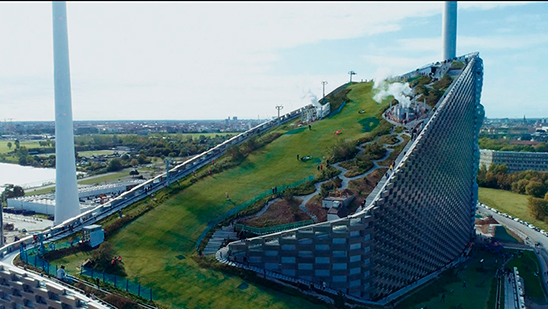 Directed by Kaspar Astrup Schröder and Rikke Selin Fokdal.
The film had its world premiere today, October 1st and will be screened tomorrow at Cinemateket in Copenhagen at 4.30pm as part of the Copenhagen Architecture Festival. Where there will be a discussion after the 55 minutes long informative corporate film that has been made to give the viewers in the architecture world here and abroad an insight to what it means to build a mountain in a flat country.
I refrain from making a film review, it's of course amazing images from above and from different angles, the architect Bjarke Ingels is a good lecturer and the CEO (until 2017) of Amager Ressource Center Ulla Röttger conveys the enthusiasm and energy that the film lacks.
Where is the festive celebration of this fantastic new building in Copenhagen? And who decided to use Scheherazade by Rimsky-Korsakov from start till end…
To be fair – here is the description of the film attached to the link I received:
"Wilkommen, bienvenue," the CEO sang in 2011 when BIG won the architecture competition for a large waste-to-energy plant with a ski slope on top. A camera has followed the process since the tentative beginnings of what became known – from the very first sod cut – as a visionary project that combines waste management and infrastructure with spectacular architecture and a recreational urban space.
But it is going to be an uphill struggle …
The challenges soon pile up along with questions: How do you even combine a waste-to-energy plant with a ski slope? How far is a property developer willing to go? And how much can an architect actually push through when all is said and done?
In a cinematic construction site symphony, we follow our main characters from the popping of champagne corks and the vision taking off, through broken dreams about smoke rings and abrasions from artificial snow, to the first trip down the black slope.
Denmark, 2020, 55 mins.