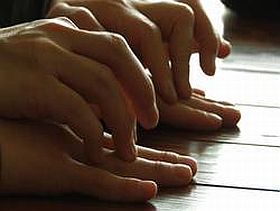 … or you could call it a mini-festival, is what the EDN (European Documentary Network) arranges every year in collaboration with and at the Danish Film School. This year it takes place May 12, from 14.00 to 22.00. This is how the event is introduced by the organiser:
"Marathon Dok is a looooong day full of funny, fascinating and fantastic documentaries. This one-day screening program brings new international high quality documentaries to the big screen in the beautiful cinema of the Danish Film School… Of course this is mostly relevant for the Danish EDN members and other professionals close to Copenhagen, but the model could be exported to other destinations, right? (ed.)"
In Danish: Programmet I år indeholder to af de mest spændende nye film, som er mere end anbefalelsesværdige, jeg ville kalde dem "musts" for dokumentarinteresserede:
Planet of Snail (2011, color, 87 min, South Korea, Japan) by Seung-Jun Yi. Vinder ved idfa 2011,
og
Five Broken Cameras (2011, Palestine/France color/b&w, 90 min) by Emad Burnat & Guy Davidi, vinder ved Sundance, bl.a.
Det koster 120 kr. at deltage i Marathon Dok, som du betaler kontant når du kommer til arrangementet.
Mere om filmene:
http://www.edn.dk/activities/edn-activity-texts/edn-activities-2012/marathon-dok-2012/