Marcin Sauter: I Grew Up as You Slept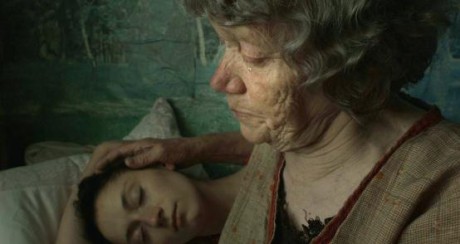 An ordinary story told in an extraordinary way. Because Marcin Sauter is not "only" a skilled director, he is a cinematographer who knows about composition and framing of images. This film has no boring moments, it is intense and full of emotions and beauty. And the music reflects the atmosphere of melancholy surrounding the granny and the granddaughter, when they meet in the countryside of Belarus, the country Karalina (who, according to credits at the end of the film, bears the same surname as the director) has chosen to leave to have more opportunities to develop her music career. In a scene with two friends, also from the music school, it is obvious that she is not the only one, who has left or wants to leave their home country… an ordinary story.
The film operates in present and past. Black and white images constitute the childhood, when berries were picked in the garden, cut to today, where the same action in colour takes place with wonderful granny and red-dressed granddaughter in the picture. The director has made his aesthetic choice. Scene after scene, situation after situation are a pleasure to watch.
An award for this poetic film tonight at the Krakow Film Festival closure?
For me no objections!
Poland, 2018, 50 mins.