Maria Clara Escobar: The Days with Him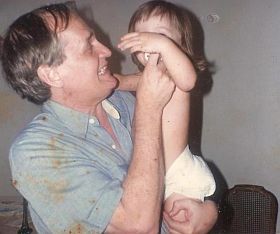 I met Maria Clara Escobar and her producer Paula Pripas in Edinburgh last year in June. They pitched the film that is now finished, original title, in Portuguese, "Os Dias Com Ele". A couple of weeks ago the film got three awards at a festival in Brazil. I watched it today back home in Copenhagen, far away from Portugal, where the film is shot, and from Brazilian history and resistance movements against the dictatorship in the 60'es and 70'es. So what would I get out of a film, where a daughter, Maria Clara, in the film often named Clarinha, talks to her father, Carlos Henrique Escobar, who I have never heard about, and who is described, when "googling" him as "Um dos intelectuais mais provocativos do Brasil nos anos 1960 e 70, o filósofo, dramaturgo e professor"?
And yet, it does not matter that I do not get all the references to Brazilian politics – names, events, not many, but some – after 107 minutes in company with an old, charismatic, stubborn, intelligent, tired, sometimes not-to-understand, a bit frail man, who has been living 12 years away from Brazil "in total anonymity", as he puts it himself.
What a man, and what a film the daughter has made! You are totally exhausted after the screening because of your wish to get it all from the man, his words, his reflections and much more important maybe, his face and his movements as the daughter has caught it with her camera in images that sometimes lacks enough light – yes, there is a lot of home video atmosphere in the film. And the exhaustion is enlarged because of the bit of claustrophobia you sense as all the film takes place in his small room and the walled courtyard.
The basic idea you understand very quickly, actually after the first 6-7 minutes that are the most catchy, intense opening minutes of a documentary I have seen for a long time: the father has agreed to make this film with his daughter, "about my life and my intellectual work", he says. He conveys to us, talking at a table
(filled with loads of paper) in the small courtyard, his upbringing, his way into being a communist, his knowledge of Marx and the manifesto, his first arrest 9 year old (!), and his realization that he and his family and friends lost after the end of dictatorship.
"I am very happy to talk to you", he says, to us and to the daughter. He gets tired, that's enough, titles appear on the screen and the film process starts. I.e. the constant dialogue between father and daughter about what the film should be about and to what purpose it serves. The daughter wants to "construct or reconstruct a memory that I don't have about my country", she wants him to talk about the arrests and the torture that he underwent – he holds back on this, but near the end of the film we get what the daughter wants to hear, and it is both shocking and touching. Shocking in content, touching because you can see that the father opens up because of love to his daughter.
In some sequences, funny (sorry if the text so far could reflect that this is a totally dark film, there is a lot humour in the film and for cat-lovers there is everything), (the father wants to be buried in a pet cemetery, no respect for human beings!), back to the humour – often he suggests to Clarinha that she should ask him a precise question that he has formulated, but when she does, the problem is that the old man has hearing problems so he does not get it all!
An old man in his library, always carrying papers around to read, with a pencil for notes to be taken, often tired and then, for the film and for the daughter, alert, precise and clear in sentences making an effort to communicate. "It is not easy for me to make this film", the daughter says to him, for the viewer easy to understand that as well, but thanks to daughter and her crew believing that this home movie could also be a strong for people outside the family. It is indeed!
PS. I don't know why this is the only photo connected to the film. There are grainy images from the childhood of the daughter but the film does first of all take place in Portugal now, in some small rooms and a courtyard.
Brazil, 2013, 107 mins.