Martin Nguyen: Tomorrow You Will Leave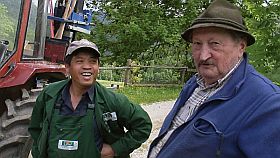 Once you get the bit heavy narrative rythm under your skin, this film opens beautifully its theme, finds its calmness and develops the characteristics of its protagonists. It is a family film with a son, who by the way just became a father himself, the film is dedicated to his daughter, and also therefore wants to know about the past of his parents, in the film at least about that dramatic period where they, with him as a baby, got away from Malaysia.
The family Nguyen comes from Vietnam and like many others they fled their country in the late 70'es – in 1979, the statistics say that 400.000 did so! They came to the Malaysian island Pulau Bidong, their son was born and it was from here they were lucky to get to Austria where they live a good but also hard life as well integrated immigrants. The father, wonderful to hear him talk German with a local accent, is a farmer in the countryside, the mother works in Vienna and comes home during the weekends. Their story in Austria is in itself interesting to watch but works also as a kind of prologue to where the real story unfolds: the filmmaker son and the parents take off to the island in Malaysia to find the man, Ali is his name, who helped them create a new life.
The travel itself brings freshness to the film. Where especially the father seesm to be sad and introvert when the talk comes to the past, in the dialogues with his son, he – and the film – gets energy from the meetings with two dedicated Malaysians with a past in Pulau Bidong. They suit the film and will do anything to make father Qang happy as the travel around brings fine situations, humour and a bit of suspense… will they find Ali? There are many memorable scenes like the one where the Vietnamese are gathered around a table talking or almost singing unstoppably.
It is a joy to watch this film for its warmth and respectful, fine balance between sadness and getting sentimental. There is a small interview with the director on the IDF website, click below.
Austria, 78 mins.
http://de-de.facebook.com/pages/Tomorrow-you-will-leave/127941350551592
http://www.dokweb.net/en/documentary-network/articles/film-of-the-week-tomorrow-you-will-leave-1903/?