Mat Hodgson: QPR: The Four Year Plan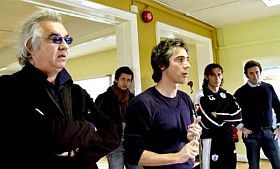 A classical story, and a wonderful tv documentary for football freaks like this blogger. This is the text that gives the background, taken from the BBC's programme site:
"In 2007 Queens Park Rangers Football Club, facing relegation and bankruptcy, was rescued by four high-profile billionaires. Their vision: to take a community of reluctant fans, semi-talented players and a roster of ever-changing managers to Premiership glory. The new owners, risking ridicule and commercial failure, allowed cameras unprecedented access to record the roller-coaster ride. Though they paid for much of the filming they did not control where the cameras pointed or what ended up in the film."
QPR succeeded but after years of struggling on the pitch and mostly backstage, where the film stays with the protagonists, where – luckily, as they live up to all the clichés about Italians – the Italian owner and the Italian sports manager express their strong emotions according to the results, which in the first years were terrible and where the coaches are changed whenever there is a slate of defeats… "he is an idiot", is being said about the men who were saluted just months ago as the savour of Queens Park Rangers, the London club with the address Loftus Road.
It is a well-made observational documentary, it lives through the details, and through the long time it has been filming, with the right warm and humourous touch, with a lot of f… words, but also hugs and vanity – if they dont stop booing me, I will leave, says Flavio, one of the moneymen behind the club, the mafia-looking guy on the photo. And the films includes great lines to pick up like "this season we don't scream at the players".
PS. QPR is now fighting to avoid the relegation to Championship again, the coach is no longer Neil Warnock but Mark Hughes. Hoping the best for the club!
UK, 2012, 90 mins.