Maysles Brothers Competition Belfast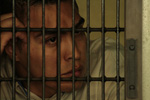 It is not very often that jury motivations are useful to read. This one is, from the documentary competition at the Belfast Film Festival, named after the Maysles Brothers. The members were Karolina Lidin, Charlie Philips and Ben Kempas. Here is their text:
In Belfast, we saw many excellent films, gripping and well-crafted. Yet, PRESUMED GUILTY by Roberto Hernandez stood out, with all the right ingredients a documentary can possibly have. With astonishing access to a prison in Mexico, we get to follow Tono, a young man who has been sentenced to 20 years in prison for a murder he most likely did not commit. We witness legal proceedings that seem like a total farce, based on the assumption of guilt rather than innocence.
Not only are we incredibly close to Tono and the people fighting for his release. There are also unbelievably revealing moments with the judge, the prosecutor, and police officers, which make us question their concepts of justice. The documentary is very political and very personal at the same time, taking us onto an emotional rollercoaster.Very well shot and edited, the film literally had us on the edge of our seats, close to tears.
This documentary competition honours direct cinema in the tradition of the Maysles brothers, as well as particularly innovative work. Almost 90 minutes into this film, it suddenly switches from verité to intervention, and rightfully so. Tono has already spent more than two years in prison, and things look totally hopeless, when the filmmakers themselves get involved and start a final rescue attempt, using their very own powers. A presentation of their footage to the legal
authorities essentially leads to Tono's acquittal. Never have we been more thankful to a documentary maker for interfering with his subject.
Watching this film in Northern Ireland, on a day when dissidents suddenly attempted to bring back chaos and fear to the streets of Belfast, it only felt natural to give the Maysles Award to a
documentary that truly makes a difference. Actually, this would apply to many of the films we've seen. But only PRESUMED GUILTY saved more than 17 years of a young man's life.