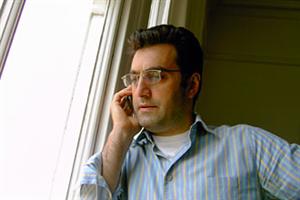 Maziar Bahari, who was arrested and imprisoned in Teheran, and has recently been released will Sunday, 22 November, from 15.30 to 17.30, be present at idfa in the Escape Lounge, where he will be talking about his recent experiences and the current situation in Iran.
Bahari was one of the dozens of journalists who was detained following the election in Iran on 12 June. He was there reporting on the elections and the subsequent riots for Canadian Newsweek. Bahari spent almost four months in the Evin prison in Teheran, from where he was permitted only a few brief telephone calls home. During his detention, pressure was exerted for from various quarters to secure the release of Bahari, who has both Iranian and Canadian nationality. On 17 October, Bahari was released on bail, whereupon he travelled to England, shortly afterwards becoming a father.
Bahari has made at least 10 documentaries, as well as writing a play. His films Of Shame and Coffins (2001), about the taboos surrounding the AIDS epidemic in Africa, and And Along Came a Spider (2002), about the religiously motivated serial murder of 16 Iranian prostitutes, were made with assistance from IDFA's Jan Vrijman Fund. Other documentaries by Bahari that have screened at IDFA include Paint! No Matter What (1999), Football, Iranian Style (2001), Mohammad and the Matchmaker (2003) Targets: Reporters in Iraq (2004) and 4 Short Films on Iraq (2007). In 2007, Bahari compiled IDFA's Top 10 and gave a master class, during which he spoke extensively about censorship in Iran.