Meet Gorbachev at Hauptbahnhof!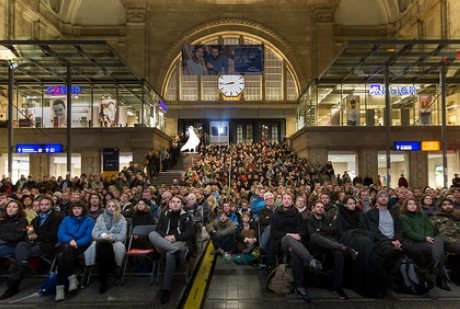 … on a big screen… for free, read what DOKLeipzig has to offer its film interested audience, taken from the website, what a good idea:
The East Hall of Leipzig's Central Station is turning again into a festival cinema during DOK Leipzig 2018! For the third year in a row, we present free, public film screenings in the scope of the festival week. Besides the opening film Meeting Gorbachev by Werner Herzog and André Singer to be shown in parallel to the official festival opening, a further seven documentary and animated films will be shown on a big screen in the East Hall of the Central Station.
The screenings take place in cooperation with Promenaden Hauptbahnhof shopping centre and Deutsche Bahn AG and start from Monday 29 October till Saturday 3 November daily at 7:30pm. Free entry!
The following films will be shown:
Monday, 29/10 | 7:30 pm
Meeting Gorbachev | Werner Herzog, André Singer | 180 min. | German version | from 6 years old
Tuesday, 30/10 | 7:30 pm
Exit | Karen Winther | 76 min. | Danish/English/French/German/Norwegian OV with English subtitles | from 12 years on
Wednesday, 31/10 | 7:30 pm
The Yellow Mazda and His Holiness | Sandra Hermans | 10 min. | French OV with English subtitles
Der Esel hieß Geronimo (A Donkey Called Geronimo) | Arjun Talwar, Bigna Tomschin | 80 min. | Danish/English/German OV with English subtitles
Thursday, 01/11 | 7:30 pm
All Creatures Welcome | Sandra Trostel | 87 min. | English/German OV with German subtitles
Friday, 02/11 | 7:30 pm
Oro Blanco | Gisela Carbajal Rodríguez | 23 min. | Spanish OV with English subtitles
Was kostet die Welt (The Prize of Paradise) | Bettina Borgfeld | 91 min. | English/German OV with German subtitles
Saturday, 03/11 | 7:30 pm
Chris the Swiss | Anja Kofmel | 90 min. | English/German/Spanish OV with German subtitles | from 12 years on
https://www.dok-leipzig.de/en/festival/festival-news?start:int=0