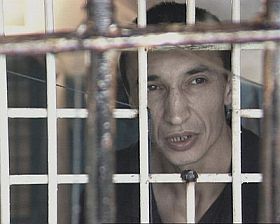 The international competition included yesterday the film "17th of August" by Alexander Gutman, reviewed and commented several times in this site. Here is a reprint of the review:
This fine Russian director has, apart from the masterpiece "Frescoes" from Armenia, made a couple of very strong documentaries shot in prisons, "Three Days and Never Again" and "Blatnoi Mir" (directed by Finnish Jouni Hiltunen, Gutman was production manager), and here comes another that I do not hesitate to call masterly done as well.
One day in the life of a prisoner, sentenced to lifetime for murders, a man in a small cell, watched through the small window in the dark cell door, walking from one end to the other, exercising, making a cup of tea, praying with his head towards an icon of the bleading Jesus hanging on the wall, getting some food… and a small walk to a strongly fenced and guarded courtyard, filmed from above to achieve the impression of a man in a cage, A close-up study that works because of the brilliant combination of pictures with the monologue of the prisoner. On Life, on the conditions in the isolated prison, on being alone and away from it all, on being close to guards who are there all the time and in a way sharing his destiny.
Sometimes with some shots from the courtyard outside. A horse stands there, an old man comes and makes it ready for transport, they leave the prison, and the camera stays – later on they come back with a coffin to pick up the corpse that we have seen in a previous scene. Or a window with a cat. Did I say that it was black and white. And slow. And extremely well edited. Not a moment too much. Sympathy for the murderer? No, not really, but respect for a human being, curiosity.
Russia, Poland, 2009, 62 mins.