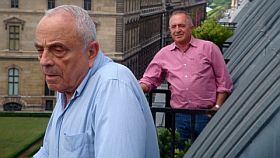 An almost two year old boy running around observing what goes on. And touching the Golden Centaur statuettes lined up to be given to the winners. A conferencier shouting Russian words into the microphone trying to make a festive atmosphere. Next to him a very professional female interpreter who repeat in English. One after one the winners are called to the stage… but not many of them are present. The atmosphere is supposed to be lifted by loud music that is generally tough for the ears. Nothing is really planned in details and people are sweating during the hour it takes before departure to the farewell reception.
A nice atmosphere, some would say chaotic, my fellow jury friend said "excuse me my French, but this is a complete disaster", I would call it anarchistic – and yet, politics are being made, the director of the main private sponsor, a Dutch company, is called to receive a medal as was he a filmmaker, and the board of directors give special prizes for filmmakers, who were not on the lists of the juries…
And outside my travel partner and I look at the young women, who fight to walk the high heels, that they all have. If you don't wear them, you are not a real woman, one of our young smiling guides told us her mother had said. Photo from "Paris Return", winner of Message2Man category Best Documentary, see below.