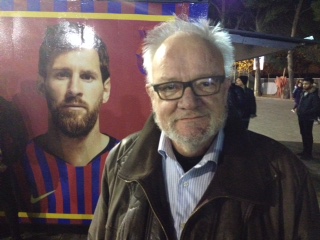 I was there when Andres Iniesta stopped at FC Barcelona, last year – and I was there when Leo Messi made his goal number 400 for Barca. Yesterday. At Camp Nou. The first one, his first goal, was made at 17 years of age May 1st 2005 – you can see it on Youtube, as I did this morning, and you will also be able to enjoy the one and only Ronaldinho, the mentor of Messi, what a player he was and what a player Messi is.
As always I was there invited by Joan Gonzalez, on the Sunday before four days of selection work for the 2019 DocsBarcelona. A bit into the second half, I said to Joan "is Messi playing tonight", he had been quite passive walking around on the middle of the pitch… it was as if the now bearded football star heard the ironic comment; moments later in a typical Barca tiqui-taca sequence he scored, and we 65.000 (Joan's estimate) spectators got up from the chairs exploding in the cry of joy MESSI!
The photo is taken just after the match by Joan Gonzalez with my i-phone.