Michal Marczak: At the Edge of Russia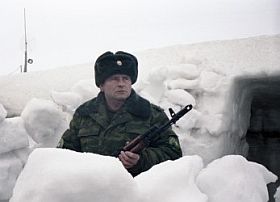 Lucia Alessi, first year student at the Zelig Documentary School in Bolzano, Italy writes this review:
In the extreme north of Russian Federation, along the twelve thousand kilometres who divide the country from the Arctic Sea, there are twelve military bases, which were set up in the fifties to defend the borders of the Soviet Union. There, in "The edge of Russia", Aleksey, a 19 year old new rookie, has to learn how to face such a hostile nature, gain the respect of his superiors,and be prepared for a foreign attack, which actually will never arrive. The Polish director Michal Marczak carefully moves between the opposites of life, the extremes which make people face themselves.
In a place where going abroad just takes one step, a breath, maybe the same breath that Aleksey learns to hold when his body is freezing, all that is left is just some small black completely isolated spots in the white of the north, uniforms which lost their souls in vodka fumes and the melancholy of old songs, which have nothing but their own past, their previous lives, that can never be shared in that senseless, dehumanizing base. Where a man doesn't manage to trust his own wife, but is ready to keep his hand under the axe of his mate. Where the only connection to the real world is a Putin portrait on a wall and the celebrations of the Victory day.
An amazing camera brings us into the deep of their daily life, the small details which build up the days, where nothing happens and everything repeats, in a suspended waiting-for-nothing atmosphere, worthy of the most famous of Beckett's plays.
Alone in front of themselves, these men are all "boiling in the same pot", in a symbiothic relation, which will develop their psychical and physical strength. Forced to live a complete faked life, they will learn day by day how to face the unreality to live in a place where no blade of grass grows, to be prepared for an attack that, up to now, has never been, keeping on with a paranoia of the most scary power of the twentieth century, which does not exist any longer.
Poland, 2009, 72 mins.