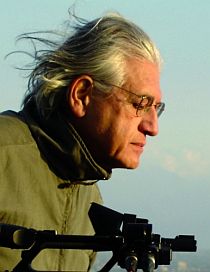 It is not new that the NY Museum of Modern Art has a very active film department and a very high quality in selection. Neither is it new that the Museum shows a lot of documentaries. But it is maybe new for many that the programming is as interesting as the one included in the "Documentary Fortnight 2011: MoMA's International Festival of Nonfiction Film and Media", that runs until February 28. Here is the intro from the site:
Established in 2001, MoMA's annual two-week showcase of recent nonfiction film and media takes place each February. This international selection of films presents a wide range of creative categories that extend the idea of the documentary form, examines the relationship between contemporary art and nonfiction practices, and reflects on new areas of nonfiction practice. This year's program includes an international selection of 20 feature films; independent films from China; a look at the legacy of New Day Films, one of the first do-it-yourself film cooperatives; and two documentary performance programs.
The International Film Selection includes films from 14 countries. The opening and closing films are both debut features by British artists—Gillian Wearing's Self Made and Clio Barnard's The Arbor. These exciting new works incorporate acting and drama into examinations of reality. Also featured is renowned Chilean director (photo) Patricio Guzman's Nostalgia for the Light, a hauntingly beautiful philosophical rumination on the secrets of the heavens
and Earth 10,000 feet above sea level, in Latin America's Atacama Desert. Documentary Fortnight has also partnered with Cinema Tropical and Ambulante, the celebrated traveling documentary film festival created by Gael García Bernal, Diego Luna, and Pablo Cruz, to present exciting films from Argentina and Mexico that are part of a recent surge of powerful new work from Latin America.

Chinese Independent Cinema is flourishing as well, with many stories to tell beyond the strictures of the government censorship. These works are shown outside China, or in small showcases and under-the-radar festivals within the country. The films are often long, as many directors have been inspired by Fred Wiseman's prolific output and his style of observational cinema. Xu Xin's Karamay, for example, is a six-hour film about a fire that devastated the families of Urumqi. The director's attention to the details of these families' stories is poetic and captivating. By contrast, Huang Weikai's hourlong Disorder, a dense look at life in the city of Guangzhou, captures modern urban China by compiling footage shot by amateur photographers.
In 1971, dismayed that their feminist films were being dismissed by mainstream educational distributors, a group of American filmmakers joined together to form New Day Films, an independent documentary distribution cooperative. 40 years later, New Day Films is thriving as a leading educational distributor in the U.S., and its members' award-winning films are in public demand. Five programs of films show the wide range of topics they have examined, and founding members Liane Brandon, Jim Klein, Julia Reichert, and Amalie R. Rothschild will be present to talk about their experiences.
Performances by Sam Green and Dave Cerf and Nao Bustamante will take place on the final two nights of the festival. Many of the filmmakers will be present throughout the festival, and discussions follow most films.
PS. There are several trailers to be watched on this site: