Monopolets Helte – Poul Martinsen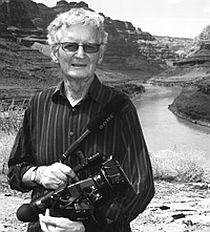 At Poul Martinsen er en fin og klog dokumentarist, som har lavet et væld af seværdige dokumentarprogrammer og – film for Danmarks Radio vidste vi jo godt. Os der har alderen til at have været tv-seere tilbage fra tresserne eller har set de mange genudsendelser eller været i det københavnske Cinemateket, hvor han har været præsenteret retrospektivt. Altid med "Lydighedens dilemma" og "Broen" som hovedeksempler, som det var tilfældet i DR2´s overfladiske aftenprogram med Martinsen, hvor der spildes tid på at lade ham vandre forvildet rundt gennem det nye tv-hus, før han bliver placeret foran et tv-apparat, hvor han kigger på klip fra sine programmer og kommenterer dem klogt og oplysende. Afbrudt af – igen – overfladiske speakerkommentarer om hvor god og herligt provokerende han var – fra folk som Poul Nesgaard og Gorm og Gregers – og om hvordan han "opfandt" Big Brother and Robinson lang tid før de blev trend. Vigtigt for Martinsen, næh, det der satte ham i gang, siger han til kameraet, var brødrene Maysles "Salesman". Dokumentarismen på internationalt niveau med andre ord.
Flere af DR Dokumentar's udsendelser (bl.a. mange af Lars Engels, men vist ikke af Martinsen) kan ses i fuld længde på Bonanza, se nedenfor.
Eller læs Peter Harms Larsens bog om Martinsen eller Ib Bondebjergs
Virkelighedens fortællinger, den danske tv-dokumentarismes historie (begge 2008)
Sendes også DR2, lørdag 4. oktober kl. 22.50