Namir Abdel Messeeh: The Virgin, the Copts and Me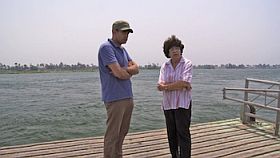 If all goes wrong, you can always turn to Mother, which is what the director of the film does in the film, when his producer no longer wants to support him. This storytelling tool, including the making of the film in the narrative, a meta plan, works in this case as the film is about a young French filmmaker who, after 15 years, goes back to his Egyptian coptic roots in a village, against the will of the mother, who in the beginning says that "no members of the family (should be) in the film". But the help of mum gets the film to be finished, the family members all end up in the film, which adds to the film's light-hearted entertaining qualities at the same time as it gives a beautiful hommage to people far away from Tahrir Square, in a small village where someone once saw the apparation of Virgin Mary.
For that it is the core of the story, did these apparitions really happen, is there any proof, any documentation? This was what made the director interested, what motivated him to go on a quest among coptic religious people. Especially in 1968 where some film footage could indicate the apparation. He puts an ad in the newspaper, he has people to help him find witnesses, but is does not really give results, when he is in Cairo. So off he goes to mother's village, "the french guy", as they call him, and fine situations are caught between him and his grandmother. Mum leaves France to help the son, mum is not happy, "c'est un film de merde", she says, how can you film a miracle. Stubborn Namir decides to create the apparation and deceides to do casting of young women for the role of Virgin Mary. He sets up a very fine, warm and humane atmosphere, and he describes himself in a very funny way with the director (Me) filmed as was he God. Which in a way he is,the director, on the set, and film is magic, isn't it?
A post scriptum comes up – the producer calls the director to tell him that he can raise funding for the film, if he includes something about the revolution at Tahrir Square… on a personal note, oh yes, this is what "they", the broadcasters, want, thanks to the director for giving us something else, non-journalistic. Photo: Son and mother, director and producer.

France, 2011, 85 mins.
The film is to be released in France by
http://www.sddistribution.fr/prochainement.php?limite=2
international sales and festivals:
http://www.docandfilm.com/index_en.cfm?&CFID=79884&CFTOKEN=88224574
contact: d.elstner@docandfilm.com