Nanna Frank Møller: Let's Be Together/CPH:DOX 7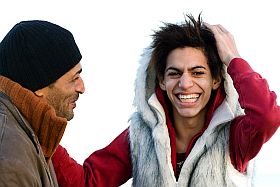 That Nanna Frank Møller is an excellent editor has been proved many times, primarily in her collaboration with Danish director Max Kestner. That she has a talent for directing herself became obvious with the film about the circus sisters, "Someone Like You". Here she is with another proof: a film about 14 year old Hairon, who has Brasilian parents but lives in Denmark with his mother and her Danish husband, one more dad for Hairon.
"Let´s Be Together", however, is the story about son and (Brasilian) dad, told in an intimate and gentle film language, full of respect for the drama that lies in a teenager, who loves to dress like girls and women do.
Hairon wants to be Cleopatra for his birthday and this forms the structural frame of the film. Mother and Hairon go to Brasil to see Brasilian father and to have the Cleopatra costume prepared. Strong conversations are unfolded, interpreted brilliantly in rythm and music and in an editing that have wonderful pauses that are full of information and emotion. "You must know to control your life a bit", the father says in one of the many scenes with the two together. Would be wrong of me to reveal the end scene of the film, it is so fine and impressive and well thought and performed by a big talent in new Danish documentary.
Denmark, 2008, 82 mins.