New Danish Screen – 10 Years Celebration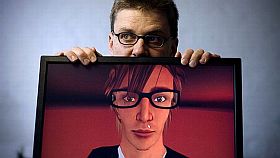 The Danish Film Institute publishes regularly – in English – its magazine Film. A printed issue is always available in connection with the big festivals in Berlin, Cannes and Amsterdam (idfa), and on top of that you can find digital issues, the last one being the Fall 2013 issue that covers films in connection with other festivals like Toronto as well as articles on coproductions with Danish companies.
This blog post, however, deals with a very generous offer, in a special digital issue on "10 Years with New Danish Screen". For those who don't know what that is: " Established in 2003, New Danish Screen is a talent development subsidy scheme providing support for fiction and documentary films.
Through this support scheme new generations of filmmakers are given the opportunity to push their limits and create new experiences for cinema and television audiences. New Danish Screen aims at making use of the energies and skills of talented creators, rather than guiding them in well-defined directions.
New Danish Screen is aimed at new talents working on the professional level as well as less experienced filmmakers. What counts is enabling manifested talents to develop, test out new ideas or change course since their past productions.
New Danish Screen (NDS) is founded on a partnership between the Danish Broadcasting Corporation DR, TV 2 and the Danish Film Institute."
And now about the celebration gift that also reaches out to a foreign audience (English subtitles): Choose between 53 films, supported by the NDS, and watch them online. Here are some titles to be recommended: "My Avatar and Me" by Bente Milton and Mikkel Stolt (photo), "My Father from Haifa" by Omar Shargawi, "The Invention of Dr. Nakamats" by Kaspar Astrup Schröder, Mira Jargil's new "Dreaming of a family", "White Black Boy" by Camilla Magid (this one with a small fee, otherwise the mentioned are for free). Those mentioned are all documentaries that I have seen, there are several fiction films, more experimental works and NDS deserves (also) much credit for bringing back the short film to a Danish, and now also an international audience. So – read all about it, NDS, and have fun with some films!