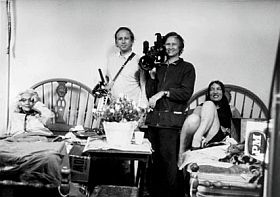 It's the Maysles!
At this years edition of Cinéma du réel, the festival paid tribute to Albert Maysles. The Maysles Brothers: the late David on sound and Albert behind the camera, classic direct cinema.
As was the case two years ago, with the retrospective Americana showing the works of Shirley Clarke and Jim McBride (not to forget Agnès Varda's rare and wonderful Lions Love (1969)), it is a pleasure to be able to discover or rediscover these films on the big screen.
Everything in Albert Maysles films is beautiful; from the American ballerina at the Bolshoi ballet in Anastasia (1962), Yoko Ono performing her Cut Piece (1965), a hilarious and very attractive Brando in Meet Marlon Brando (1966), the self-revealing Truman Capote in From Truman with love (1966), a bible-salesman driving his car in Salesman (1968) to the eccentric mother and daughter in Grey Gardens (1975).
Godard has called Albert Maysles the best American cameraman. The two of them worked together in the Barbet Schroeder production Paris vue par… (1965), a curious piece of film history, described by Albert here:
http://www.arte.tv/fr/Comprendre-le-monde/arte-journal/103288,CmC=3115724,CmPart=com.arte-tv.www.html
Albert Maysles sums up his approach to documentary with a quote from Grey Gardens: " Come on in, we're not ready!" (Little Edie in Grey Gardens).
If you can live with the English version with French subtitles, a DVD including both Salesman and Grey Gardens (ArteVidéo) is available on French Amazon http://www.amazon.fr/. Or separately in an English version as well as Shirley Clarke's Portrait of Jason (1967), Jim McBride's David Holzman's Diary (1968) on amazon.uk. You can watch Yoko Ono's Cut Piece at:
http://www.dailymotion.com/video/x3dsvy_yoko-ono-cut-piece_shortfilms.
For the French resident readers, some of the Maysles Brothers films can be seen on TV on CinéCinéma Club, on April 30 and May 7.
As for the rest, we are lucky to have retrospectives at the festivals!
I would also like to mention that, unfortunately again only for French residents, the films from the international competition and the French panorama at Cinéma du réel are available on VoD at http://www.universcine.com/promotion/cinemadureel2010 the whole month of April.
Photo: The Maysles on location, Grey Gardens (1975)