News from Paris: Richard Leacock: The Feeling…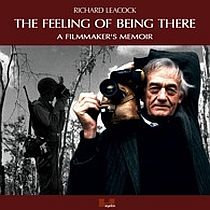 Documentary pioneer Richard Leacock will be celebrating his 90th birthday June 18th of this year. He has been working on his memoirs for several years and now the book is finally ready to be published.
The Feeling of Being There – a filmmaker's memoir is not only the story of Leacock's own life; it is also a journey through almost the entire history of documentary cinema seen from the inside. Richard Leacock made his first film, Canary Bananas, in 1935 at the age of 14 and finishished his last film, A Musical adventure in Siberia, in 2000.
Leacock was the first person ever to film the Galapagos Islands; participated in the second world war and filmed the battle for Burma and the Japanese surrender at Nanking; he was a cinematographer for Flaherty (Louisiana Story); a pioneer of Direct cinema; made together with Drew Associates (Drew, Pennebaker, Maysles…) the first document following a campaign filming the primary elections opposing J. F. Kennedy and Hubert Humphrey in Primary (1960) and again, following closely the confrontation of Alabama governor George Wallace versus John F. and Robert Kennedy, caught a key moment of the implementation of civil rights in America in Crisis (1963); he has made amazing portraits of musical geniuses (Stravinsky, Bernstein…); Leacock-Pennebaker produced Happy Mother's Day, Monterey Pop and Don't Look Back and had a chaotic collaboration with Godard (1 A.M., to become 1 P.M.); Leacock developed and taught at the documentary film department at M.I.T. from 1968 to 1989 and made highly innovative projects with the M.I.T. Media Lab; had an intimate encounter with Louise Brooks resulting in Lulu in Berlin (1984) and so much more…
It is fascinating to read and as Leacock has always been on the forefront of innovative media, his book is not just to read, it includes over a hundred film quotes functioning as visual footnotes, because, as he states in the introduction, "writing about film has much in common with writing about wine: you can't taste the wine by reading. Well, I think you have a similar problem when you write about films: you can't see the movies on the printed page. So it occurred to me that if I embed excerpts, and often entire films, within the book, then you, the reader, could actually experience what I am talking about" (excerpt from the introduction).
Leacock lives in France with Valerie Lalonde with whom he has made films with since 1989. The Feeling of Being There – a filmmakers memoir will be published this summer by the non-profit association Canary Banana Films and the French publisher Semeïon Editions.
You can read more about the book and how to contribute to the project here:
http://www.canarybananafilms.com/memoir.html
More about Richard Leacock here: