Nicolas Barthez: Great Run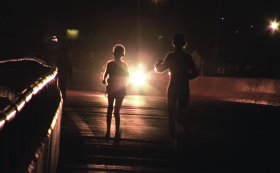 The start is wonderful. Young runners on the road in sunset light, in the middle of the car traffic. The narrative follows one of them home, Fassika, 14 years old – she wants to run for fame and to get away. In general the camerawork is good. "Anywhere would be better for me", Fassika says, and dreams about France, England, USA, whatever would be possible. It is revealed that she and her family, as the family of Enok, a boy of 11, come from Eritrea and are deported to the capital of Ethiopia, Addis Abeba.
This conflicted political aspect is not further developed in the film. Focus is on the runners. One more is introduced, Tariku, who are from Bokoji, which is a small village, from where all the well known world champion athletes come. The scenes from Bokoji has stunning images from training in the forest and on the field (especially one where you see a runner training by chasing a horse) and the film, it is felt, is made with full commitment but without much knowledge about how to structure the story. We go from here to there, from one person to the other, without getting a sufficiently satisfying impression of the characters, except for Fassika. It is the first film of the director, the photographer Nicolas Barthez, well done but he should get a bit of storybuilding assistance for the next one.
France, 2008, 45 mins.