Nicolas Wagnières: Hotel Jugoslavia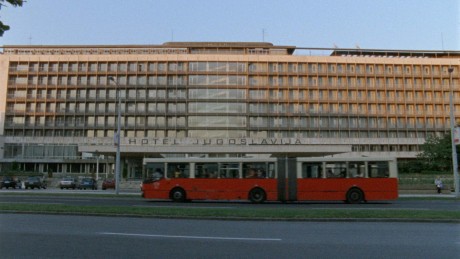 Since the beginning of this century I have visited Belgrade once per year – as readers of this site will know because of reports from the Magnificent7 documentary festival. Every year one of our tours for lunch goes to wonderful Zemun at the the Danube, and to go there we have passed the Hotel Jugoslavija. What is the story of the hotel, I have asked local hosts. Ahh, it used to be important in Tito's time but after his death and after Yugoslavia stopped being Yugoslavia, it stopped being important. Were the short answers you get in a car passing by the huge building.
Now I know much more thanks to the film of Nicolas Wagnières, his first long documentary. His mother was born and lived in the country until the sixties, bringing him to visit, he became fascinated, fell in love with the ideas that were once behind the non-aligned country – unity, brotherhood, collectiveness and self-management.
In stylized images, with constant camera movements through the empty hotel, beautiful as it was, then totally in ruins and built up again, but not totally, once a superb hotel built on the order of Tito, in 1969, a hotel where top politicians and celebrities checked in, placed beautifully in New Belgrade, then later in the 1990'es home for criminals, bombed by NATO in 1999, as Arkan and his gang was supposed to operate from there… he set up a casino, and there is still a casino there, I was there a couple of years ago, super posh with no soul.
Wagnières makes the hotel a symbol for a country falling apart, he has interviews with his mother, with people working at the hotel, he goes from images from inside the hotel to interviews, to propaganda films, to archive footage showing the mourning that followed Tito's death in 1980, but he also includes clips from fiction films, one of them a recent action film, where the hotel is blown up. And there is Milosevic with his nationalism.
Wagnières says that he during a decade has come back to the city and the hotel and that he has filmed "pour garder and pour regarder". He conveys his point of view very much through his personal voice off – one of the best sequences is the interview with the mother, who remembers how people stood together after the ww2, eager to build a new society of unity and brotherhood, values that are no longer part of the Serbian society. Wonderful propaganda footage.
The film is not deep, it is not an analysis of the history of a country, there is too much "it was much better before", but the director is an outsider, his style and approach is to be respected, and as I have seen and experienced Belgrade during the years of visiting, I can only share the director's and Belgrade friends worry for what is happening with the city and its development, when you see the glass skyscrapers popping up at the water front. Which he captures well at the end of the film.
Switzerland/France, 2017, 78 mins.