Nidal Al Dibs: Homemade Stories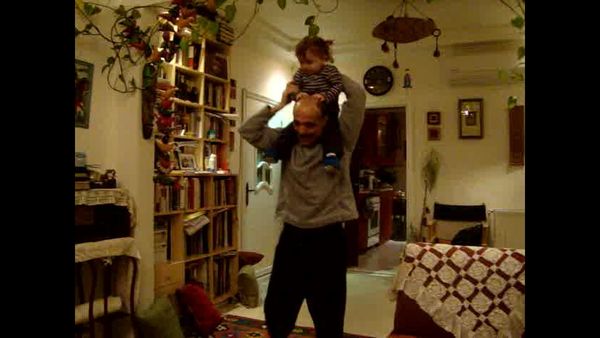 The website intro text to the film, which was in the Envision Competition at IDFA:
"As the revolution turns into war; Nidal, a Syrian filmmaker, is forced to leave the country. He locks his Damascus home door and travels with his wife and daughter to Cairo, at the time celebrating a successful revolution. He is invited by friends to open an old cinema theater which they are about to renovate. Nidal, whose refuge in Cairo keeps extending indefinitely longs for his home and city and finds refuge in navigating personal family home videos and memories as he discovers a new space: an old locked cinema in the heart of Cairo. He attempts to make a film about longing to his home by filming the cinema, to tell a story of hope. Perhaps also of despair…"
Yes, but also a film about the love of a father (and mother) to their child Salma, who sees herself in Damascus on the videos her father shot, who dances and sings and bring Life into a story that is not uplifting to say it with an understatement.
Yes, and also a film about compassion and friendship. As the apartment in Damascus is empty, a friend moves kindly Nidal asking if he can move Salma's bed into the bedroom as his daughter does not like to sleep alone.
Yes, but of course also an hommage to the Cinema, the place to dream dreams. Paradiso.
The producer is Cairo-based Mostafa Youssef, Seen Films, I think it was in his offices that I was for a workshop in 2012 – I read that the office/studio recently was burnt down in a fire accident!? Alas.
Syria, Egypt, 2021, 69 mins.
www.idfa.nl