Niels Jensen og den korte historie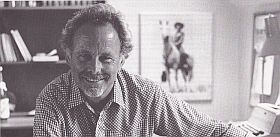 For tre år siden blev jeg af Film, DFI's blad , bedt om at vælge mig en filmisk julegave og begrunde valget. Jeg valgte en bog af netop afdøde Niels Jensen, som jeg siden da har læst med stor fornøjelse. Her følger min begrundelse fra 2007 – og hvorfor ikke lade den være en julegave i år 2010:
Hvorfor elsker jeg korte film?… Jon Bang Carlsen mente engang, at jeg måtte have problemer med vandladningen og ikke kunne sidde stille til en "Abendfüllender Dokumentarfilm"! Jeg selv mener jo, at det er i denne genre, der overskrides grænser og kan findes antydning og præcision i udtrykket.
Den egentlige forklaring er den, at Danmarks bedste filmformidler klogt og pædagogisk har vist mig vejen fra den dag, jeg lærte ham at kende sådan cirka for 25 år siden. Som højskolelærer, som programredaktør ved Statens Filmcentral og som lærer ved Filmskolen har han brændt for filmen som kunstart og øst ud af sin store kærlighed og viden.
Navnet er Niels Jensen, som for længst kunne have lagt fødderne op på fodskamlen efter en smuk og uselvisk tjeneste til gavn for dansk filmkultur.
Det gjorde han ikke. I stedet har han nu udgivet en ny bog, hvor han introducerer os til novellen, novellefilmen og noveller omsat til spillefilm. Sikkert med en masse henvisninger til billedkunsten. Jeg glæder mit til at læse den. Som jeg gjorde i sin tid, da "Filmkunst" åbnede mine øjne for at film skal ses i sammenhæng med andre kunstarter og kulturelle strømninger.
Derfor står den bog øverst på min ønskeseddel!
Kort om korte historier i litteratur og på film. Af Niels Jensen
, 2007
, 439 sider. Udgivet af Den Danske Filmskole.