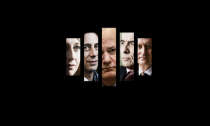 If you want a qualified overview of what has happened in Danish documentary, short fiction, animation and children film during the last year – you should go to the 23rd Odense Film Festival that takes place next week, August 19-24, in Odense. Yes, this is where Hans Christian Andersen was born.
The festival is competitive with a wide range of prizes to be given, not only for films from the national competition programme but also for an international competiton programme of short films.
The festival programme is rich, full of special sections, workshops and seminars, and has its own ambiance around the art cinema Café Biografen. Check it if you can with your own eyes, and if you can't, go to the website, see below. Selectors for foreign festivals can catch important titles here.
As for documentaries in competition, several of them have already been reviewed on filmkommentaren – "Purity Beats Everything", "Milosevic on Trial" , "Forførerens Fald", "Being Frank", "Vesterbro" to mention a handful. You can click them all on this blog.
Later this week we intend to review some of the new films.
http://www.filmfestival.dk/Webnodes/en/Web/Top/Forside
Still: Milosevic On Trial in the national competition.