Oleg Sentsov on Hungerstrike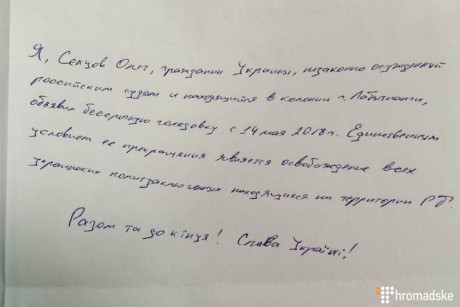 Since 2015 we have again and again written about the Ukrainian film director Oleg Sentsov, who is in prison in Russia. At numerous festivals the message has been sent to the Russian authorities "Release Oleg Sentsov" and Askold Kurov has made a fine film about the man and the case.
According to hromadske.ua – link below, where you can read the whole article – this is the latest horrible development:
Ukrainian film director and political prisoner Oleg Sentsov, who is being held illegally in a remote Siberian prison in Russia, has gone on a hunger strike.
This was put forward in a statement by Sentsov's lawyer, Dmitriy Dinze, who provided the information to Hromadske. By going on a hunger strike, Sentsov demands the immediate release of all Ukrainians detained in Russia and Crimea.
"I, Oleg Sentsov, citizen of Ukraine, unlawfully tried by Russian judiciary, currently being held in the colony of Labytnangi, declare that I have begun a hunger strike indefinitely as of May 14, 2018," his statement reads. "The sole condition of its end is the release of all Ukrainian political prisoners located on the territory of the Russian Federation."
Ukrainian President Petro Poroshenko has already reacted to the news by calling for the international community to "continue pressuring the Kremlin to free all Ukrainian political prisoners as soon as possible."
"We continue to fight for them and offer every effort in order to free these unlawfully detained Ukrainians, who are held on the territory of occupied Crimea, Donbas, and the territory of the Russian Federation," Poroshenko said on his Facebook page.
Dinze also says he warned Sentsov of the possible consequences of a hunger strike, including irreversible health risks. The lawyer does not rule out that Sentsov may soon become subject to "compulsory psychiatric observation and forced feeding."
"He has been transferred to a safe place, where individuals refusing food and going on hunger strike are located," Dinze told Hromadske, adding that the filmmaker has not specified whether it is a dry hunger strike. "He is confident in his decision to continue the hunger strike to the end until there is some sort of result."
Sentsov is one of 64 Ukrainian political prisoners located on the territory of occupied Crimea and the Russian Federation…
https://en.hromadske.ua/posts/ukrainian-filmmaker-oleg-sentsov-goes-on-hunger-strike-in-russian-prison