One World Festival Prague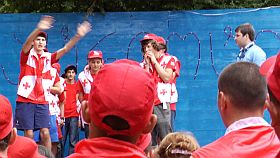 A text quote from the site of an amazing film festival that has it all – a thematical focus, a distribution strategy, debates, and a catalogue full of strong films:
"Over 100 films, dozens of foreign guests – primarily film directors, screenings for schools, streamed films online, a range of accompanying events and more – these are the things that you can look forward to at the 12th edition of One World. The main festival will be held in Prague between March 10 – 18, 2010 followed by the Regional One World festivals in 29 towns and cities of the Czech Republic through the end of March into early April. In addition, a select number of films screened at One World, the biggest human rights documentary film festival in Europe, will be presented in Brussels in mid April.
This year's festival will feature 101 documentary films from over 30 countries within both competition and thematic categories. These have been selected from more than 1600 submitted films. This year's festival will open with the Iranian documentary Green Days, which portrays a current and striking example of human rights being repressed (see below)."
The following films, that have all been written about on this site, will be screened in Prague: Salome Jashi: The Leader is Always Right (photo), Pawel Lozinski: Chemo, Bories & Chagnard: The Arrivals, Fredrik Gertten: Bananas!, Andreas Apostolides: A Place Without People, Neta Efrony: Kalandia-A Checkpoint Story, Gianfranco Rosi: Below Sea Level, Anders Østergaard: Burma VJ, Linda Jablonska: Welcome to North Korea!