Oppenheimer, Cynn, Anonymous: The Act of Killing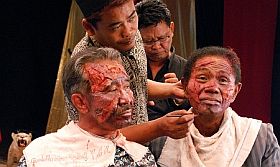 Behind the scenes, the making of.. a film. We have seen them lots of times, following how the actors prepare for their roles, how the shooting was done, how the director directed. This is exactly what "The Act of Killing" does, with the big difference that the film being made is, to use a kliché, "based on a true story". A story about the mass murder of around 1 million people in Indonesia in the 1960'es, opponents of the military regime. Communists. Chinese. The killers were saluted, and still are, as the films shows, through the paramilitary fascist group, now a political party, as I understood it, Pancasila.
Werner Herzog asked the protagonist in his masterpiece "Little Dieter Needs to Fly" to reenact the horror actions he experienced in Vietnam, the directors of "The Act of Killing", an absolute masterpiece as well, have done the same with their killers – please re-constitute what you did at that time. And how you did it, we will help you to make your vision as authentic as possible. The filmmakers – = the killers, they call themselves gangsters which they say mean "free men" – choose different ways to convey their stories. They have found their inspiration in what they call "sadistic movies" a la Scorcese and Tarantino, they have gorgeous more reportage style shooting from the streets, where extras are found, who can play communist family members, shot in observational style and with kids involved who break down as they do not know, whether this is for real or not and they make the most astonishing tableaux that make you think about Herzog and his Fitzcarraldo period.
But first of all the film has a fantastic main charismatic personality, the leader of the gang and the director of the film in the film, Anwar Kongo. A Shakespearean character, haunted as he is by what he did. "When I sleep it comes back to me", "a communist ghost", he says, and the film is constructed around his journey from, as the cph:dox catalogue puts it, "arrogance to regret". Accompanied first of all by the fat man, of course his name is Herman(!), who does and has done all the atrocities he is told to do, and by the way tries to get into the Indonesian parliament(!) with Pancasila, Anwar Kongo lets his hair become black and goes from showing the most effective (= less blood) killing method to play a victim in his film, to getting sick in the end scene. Still you sit with the feeling that Anwar Kongo, the charismatic grandfather, at any time would repeat the sentence "all this talk about human rights pisses me off", whatever the political situation in today's Indonesia is.
The film premiered in 60 Danish cinemas yesterday via the DoxBio.
Denmark, 2012, 115 mins.