Orjonikidze & Arsenishvili: Altzaney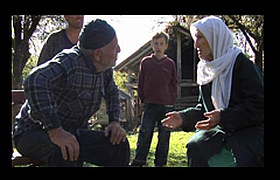 The camera work is brilliant. It is a constant caress of the protagonist of this short documentary from Georgia. Her name is Altzaney and she is the one who is trusted to solve problems in the local community in the Pankisi gorge. In the first 50 seconds of the film you see hands, white linen being cut by scissors and the face of an old woman. At the end of the film you see that the white linen is used to wrap a corpse for burial. All taken care of by Altzenay.
And at the end you have the feeling of having met a charismatic, lovely old woman with quite extraordinary skills to fulfill the position she has been given as negociator, as the one all troubles are taken to, as the one who cleans the small mosque and takes the lead in the women's singing, dancing and praying at the modest holy place. She is picked up by cars as a diplomat, she is followed to a wedding, to a family to solve problems, she is called "granny", and the camera performs beautiful moves to get close to her face and give us the environment. In short intercuts Altzenay talks directly to the camera about this her mission in life.
Another excellent inside to a place in Georgia, as was the film "Their Helicopter" by Salome Jashi written about on filmkommentaren.dk.
Georgian documentary talent. Support it! Buy for broadcast. Screen their films at festivals.
Nino Orjonikidze & Vano Arsenishvili: Altzaney, 2009, 31 mins.