Orwa Nyrabia and Ali Farzat Honoured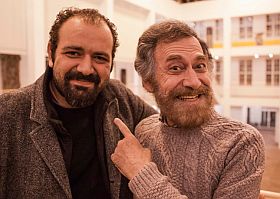 Read and enjoy the following – so well deserved and chapeau also for DR's Horisont (the Danes can watch it online), which dedicated their whole monday programme to tell about the two Syrians and their meeting with the regime's brutality.
The IMS (International Media Support) wrote this introduction, for the full article go online, photo taken by Rasmus Steen, IMS:
"Film producer Orwa Nyrabia (lives now in Cairo) and political cartoonist Ali Farzat (lives now in Kuweit) were smiling and making jokes on Wednesday in Copenhagen with good reason. They each received the Danish Poul Lauritzen (PL) human rights award and 10,000 euros each for their work on human rights and political freedom in Syria.
With the ongoing violence in the country, the PL Foundation sought to honour Syrians who still fight by nonviolent means.
"We decided to honour two people who have worked tirelessly for political freedom long before the war started, and now from their exile," says Poul Søgaard, chairman of the PL Foundation. Established by Danish merchant Poul Lauritzen, the foundation aims to support people and activities that work in compliance with the UN Declaration of Human Rights."
http://www.i-m-s.dk/exiled-syrians-honoured-with-human-rights-award/