Orwa Nyrabia at Getting Real Conference 2018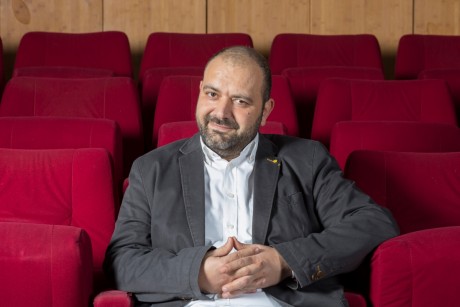 … where he made a keynote speech introduced by the IDA's Claire Aguilar in this way: Orwa is the Artistic Director of IDFA Amsterdam. But unfortunately he is not here in person. He is skyping in from Amsterdam. As a Syrian national, he was not allowed into the US!! IDFA is the largest doc fest in world. Last year he was appointed art director. This Nov will be his first edition. He is a filmmaker/activist/programmer/actor.
Here is a small quote from the speech, I warmly recommend you to join the D-Word that has covered the conference extensely and where the whole speech can be found:
I spent much of my childhood with Troy and Achilles, and fight with Hannibal, and take elephant over mts. And Yemeni magical flying beast. I was a kid. My father, a political prisoner. Mother, sleepless. Expected to be imprisoned too. My experience is parallel to others. I was so afraid of reality as a kid. So I lived in mythology and then to be an actor. But I decided I didn't want that. Documentary film felt like a outlet for my anger and my terrible reality. In the sense that in documentary film, the great works showed me that even when we make a film about the self, it can be ruthless truth and sincere and meaningful for all.
In my life conferences like this became expected, not a surprise. 15 yrs ago I was asking Jeeve where are you guys, and then I'd found d-word. It's the best form of community I could have. Travel is difficult. We were lonelier than today but distance is different today. Today if we look at the reality of international doc filmmakers — are tortured, exiled, and killed. More than ever. Not everywhere. There is a normalization of what happens in Russia – 130 day hunger strike. But it will affect all of us, filmmakers being persecuted. Everyday in world, filmmakers face a lobbying campaign against them.
In Europe, it's a special moment with the rise of right wing, and budgets are aggressively cut back, as the social democracy and public welfare state is being challenged. Denmark right wing voted to cut budget of public TV, and so documentaries are harmed. Denmark recently also now has a question of content. Prefer production in Danish language. A closing of the borders of country. ..