Oscar Nominations January 10/2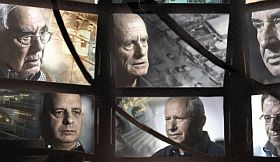 So, the nominations have been announced. For the Best Feature Documentary. We will know the winner by February 24. Apart from "5 Broken Cameras" with Burnat and Davidi, the nominees (= names) will be determined later. The names here are the directors of the films.
5 Broken Cameras (Emad Burnat and Guy Davidi)
The Gatekeepers (Dror Moreh) (photo)
How to Survive a Plague (David France)
The Invisible War (Kirby Dick)
Searching for Sugar Man (Malik Bendjelloul)
There is a tradition for writing "… and why is this film not nominated", I will not do so, just say that of course many other films could have been on the list. Instead I will salute the presence of the two films from Israel/Palestine as well as "Searching for Sugar Man", which contrary to the other films do not deal with politics or social matters/activism. I had some reservations about "The Invisible War" (see post below) and I still have not seen "How to survive a Plague".
http://www.guardian.co.uk/film/2013/jan/10/oscars-2013-nominations-list