Oscar Nominations January 10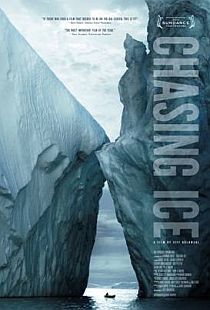 At the beginning of December 2012 15 documentary flms were shortlisted. Tomorrow (I am writing this January 9 late evening) 15 will become 5. Originally there were 126 official submissions, that were taken down to these 15:
Alison Klayman'S "Ai Weiwei: Never Sorry,"
Lee Hirsch's "Bully,"
Jeff Orlowski's "Chasing Ice," (photo)
Heidi Ewing and Rachel Grady's "Detropia",
Rory Kennedy's "Ethel",
Emad Burnat and Guy Davidi's "5 Broken Cameras",
Dror Moreh's "The Gatekeepers,"
Eugene Jarecki's "The House I Live In,"
David France's "How To Survive a Plague",
Bart Layton's "The Imposter",
Kirby Dick's "The Invisible War,"
Alex Gibney's "Mea Maxima Culpa: Silence in the House of God,"
Malik Bendjelloul's "Searching for Sugar Man,"
Mojtaba Mirtahmasb and Jafar Panahi's "This Is Not a Film",
Peter Nicks' "The Waiting Room".
I have seen 6 of them and they are all good films although I found "The Invisible War" (shown on Danish DR yesterday night) far too long and repititive touching a very important theme: sexual abuse in the American army. Of the others I read in Danish newspapers a lukewarm review of the film about Ai Weiwei, Juste Eigminaite praised "Chasing Ice" on filmkommentaren.dk, Bart Layton's "The Imposter" is on all hit lists as an original film, Alex Gibney is a fine filmmaker…
Why bother? There are many great films that should have been nominated for an Oscar. Of course, but having been in New York during the month of December, checking the movies pages of newspapers, watching tabloid US television, you get hooked and seeing "5 Broken Cameras", "The Gatekeepers" (review will follow one of the coming days), "Searching for Sugarman" and "This is not a Film" among the 15, quality is there. The question is how many of these 4 will survive for the final? We will know tomorrow.