Ostrochovsky, Pekarcik: Photophobia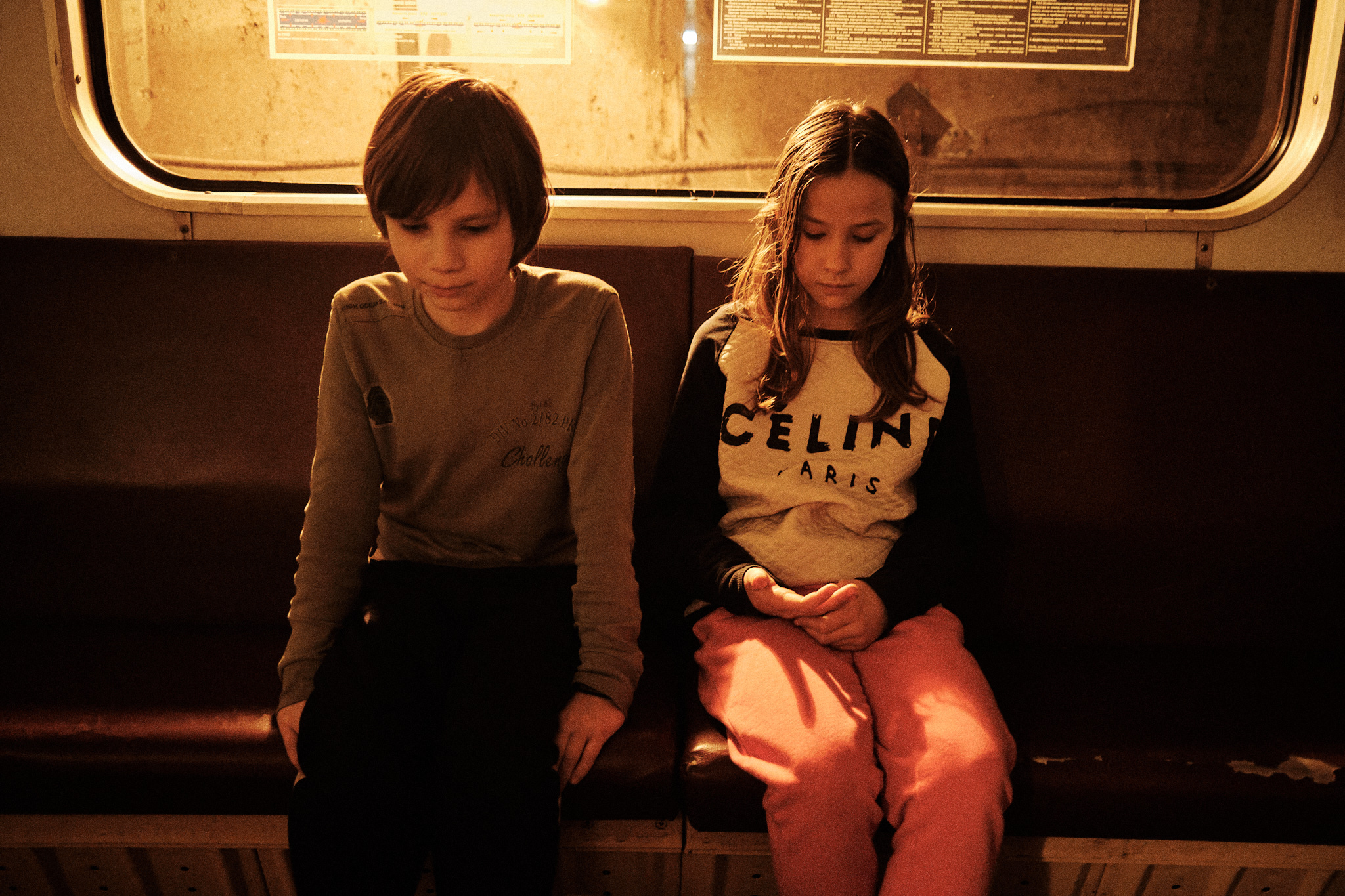 … with the first names Ivan and Pavol are known by me for their "Velvet Terrorists", that I called "an original, intelligent and humorous" film in a review from 2013 (https://filmkommentaren.dk/ostrochovsky-pekarcik-kerekes-velvet-terrorists/). If you take away "Humorous" and use "poetic" instead, it fits what I think of this film from a metrostation in Kharkiv Ukraine. Filmed during 4 months from the day after the full-scale invasion of Russia into Ukraine.
Original in the way it uses the "photophobia". The family that lives underground in the metro does not dare to exit in fear of light and of the strikes happening or that could happen just walking on grass as one says – mines are placed there. And intelligent in the way the two main protagonists, Nikita and Vika, around 12 years old, can experience the world outside through watching slides of people (mostly) posing for the camera holding animals. This is how the world is shown outside in the slides. With smoke from bombings but also with the sun rays that the two can catch, when they go to the staircase to the metro. Poetry!
Nikita wants to go out, his mother says no, brings him to the doctor – there is a clinic in the metro, much is very organized here – who gives him some vitamine pills and advice to write a diary instead of staring at his cell phone all the time. But he meets Vika and that becomes a small love story with the two running around in the metro having fun and thus also showing us viewers around in the world downstairs, where small "homes" are arranged and where Nikita's mother is cooking the okroshka soup, he likes.
Apart from the intelligent set-up of the love story of the two kids, accompanied by a cowboy-hat bearded singer who with his guitar brings love songs alive, the film gives the audience numerous sequences of impressions and stories of especially older people, who have ended up here, whose relatives have passed away or are not to get hold of. Classical documentary scenes from the beginning of a senseless war.
Slovakia, Czech Republic, Ukraine, 71 mins.