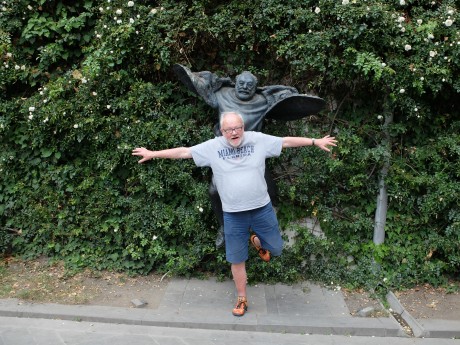 Anna Dziapshipa, a true friend, great photographer and organiser through SAKDOC in Tbilisi, in preparation for a film, took me for a tour down to Old Tbilisi as I wanted to see the monument of Parajanov – see previous post. I was inspired by a photo of Audrius Stonys in front of the sculpture and asked Anna to do one for me. She did.
The sculpture is based on a photo that Yuri Mechitov took of the director and the artist who did it is Prasto =
Vazha Mikaberidze – Born in Tbilisi, Georgia, 1967. Studied at the Tbilisi Academy of Arts from 1984-1992. In 1993 he moved to Italy and continued his studies in Riaci Academy in Florence from 1993 to 1995. Currently he lives and works in Pietrasanta, Italy.
Oh, it reflects the energy of the master of Cinema, his love to life…