Parallel 40: Joan Gonzalez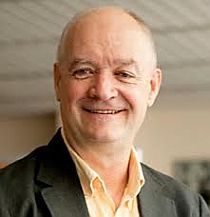 For many of us it never goes beyond the words, when it comes to put into reality all the good intentions about the promotion of the documentaries. Few have had the strength and courage to link all the elements of the chain from production to the meeting with the audience. Joan Gonzalez has and what he has done for the genre during the 15 years of existence of his company Parallel 40, based in Barcelona, deserves respect and admiration. In Catalunya, of course, and in Europe and – read below – in South America.
Training, production, distribution, film commission administration, festivals, tv management – it is all happening or has happened under the umbrella of Parallel 40, and with a clear goal statement, here taken from the site of the company: "Parallel 40's mission is to contribute to society's cultural enrichment through the audiovisual medium."
Joan Gonzalez is a visionary, some will say a dreamer, I will add that many of his dreams have and will come through. Step by Step as his slogan is. When I met him in Granada 15 years ago for the first EDN documentary workshop in Spain, he was one of the participants and made his first documentary pitch, not very convincing. But he was thrilled about the format, and he took it all to Barcelona, and became the organiser of what is now a very well established event, DocsBarcelona (read more below). At that time he was managing a local tv station and doing a lot of training, which is still very much on his agenda. He is definitely a talent scout, his office is full of talented carefully picked young people, who get the injection of documentary enthusiasm from their director. On top of that the company has for years delivered half hour documentary programmes directed by new filmmakers to TV3 Catalunya.
A man with high ethical standards, who is not afraid to use the word "trust", when he describes, what he wants people to associate with his company. He has lost some battles with this attitude but he has always come back full of optimism and with new ideas. On a personal level: Joan is a dear friend, I have always enjoyed his company, I love to work with him, to watch and listen to the creative, sometimes hard but passionate discussions between him and production manager Elena Subira, to share with him our common passion FCBarcelona, to sing Jacques Brel with him in his car, and to meet his lovely family: Montse, Berta and Marti.