You can find many obituaries on D.A. Pennebaker, who passed away August 1. I have chosen to copy-paste from this site a text I wrote when in Syria for the DoxBox Festival: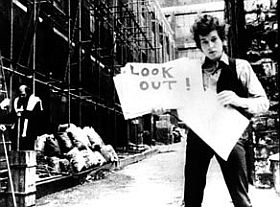 This is one of the highlights of Dox Box 2010, Orwa Nyrabia said as a proud and enthusiastic introduction to the masterclass with D.A. Pennebaker and Chris Hegedus, moderated by idfa director Ally Derks. And it turned out to be a very pleasant couple of hours with the renowned filmmakers who made film history together with other big names like Albert Maysles, Richard Leacock and Robert Drew, the Direct Cinema/Cinéma Vérité directors. At the festival, among others, the Bob Dylan film "Don't Look Back" was shown and the young filmmakers had a lot of questions to that film and especially to the method connected to the filmmaking style.
The best way to reflect what was said during the masterclass is to quote Pennebaker and Hegedus for many wonderful sentences that may inspire our readers, Hegedus being the analytical and Pennebaker the one full of stories, loving the anecdote, both of them being very generous and warm in their approach to the audience:
Am I a master, "No I was not the first person to put my foot on the beach". Subject, how do you find them, "We don't, they find us, we are very depending on our friends to give us hints, people come to us". Story?, "You don't know what is going to happen when we start". Hegedus and Pennebaker is a couple privately: "We get divorced four or five times during a film". Where does the inspiration come from, "Creative energy can't be stored!". "A documentary is like the stories you heard as a child, once upon a time…". Film crew?: "The smaller the better". Agreements? "We go for a handshake agreement". A fly on the wall? "No, I can not take an invisible pill… I watch, I am like a cat, you can not see what I think". "The money always comes". "I don't feel like a director". Observation, Objectivity? "No, how can one's person's observation be all people's observation?". "We are following the action, and is very often led by the sound". "You are like a detective, because you don't know what happens". "Style is driven by technology". "You are filming for an audience". "Look for accuracy".