Personal Archive Documentaries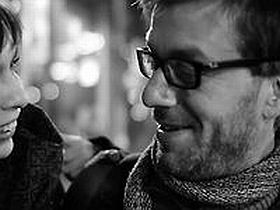 At the Archidoc training session at the la fémis film school in Paris yesterday, where ten projects were presented to a panel of producers, broadcasters and festival representatives, two so-called hybrid documentary projects stood out as upcoming films that are to be built on private archive footage of professional character.
Seb Farges has been filming his life with different girl friends for 20 years, in New York, with different technical equipment. An obsession he said at the pitching session about his project called "Womanmanhattan", an autobiographical story about a man who hides behind his camera, filming the girls and NY. But now, being 40 years old, it has to come to an end. I intend to go to Bratislava with Vladislava, a new girl friend, and she will, with her skills in docu-animation, help me find out what has happened with me, constructing a mental map. Serge Fabrege has for years put his footage on his vimeo website that has had more than 500.000 followers. Fabrege showed a trailer with material that due to the dialogue between him and Vladislava (photo presents the two of them, Seb and Vladislava) had a humourous distance-creating approach that was very much appreciated by the audience.
Portuguese José Fernandes has also been filming his life and love stories. Through six years. His film project, conveyed through an aesthetically attractive style, called "Lily, Sachi and Me", contains a story about the director travelling to Italy to fall in love with a Japanese popstar, going with her to Japan, leaving her again to seek freedom in California, where he falls in love with a girl from South Korea. He goes with her to her country, where he gets a call from the Japanese girl who wants him to come back to Japan. José Fernandes is obviously a great cinematic talent and I trust that he can make a film that follows in the footstep of other travellers, who are fascinated by Asian culture, Wim Wenders with his "Tokyo-Ga" and Chris Marker with his masterpiece the essay "Sans Soleil".
Private stories made public, and in the hands of talented filmmakers, universal, why not, the interest to share every little thing from your private life is evident on facebook, and in these two upcoming films. Watch out for them!