Peter Kerekes: Doc on Cosmonauts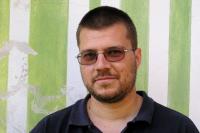 "Cooking History" by Slovak director and producer Peter Kerekes (photo) has been praised on filmkommentaren.dk and Kerekes is again on the hunt for funders of his new film project on astronauts that he presented while participating in European Film Promotion's Producers On the Move at Cannes. Taken from the always updated and well edited IDF site is this text:

"At the pitching forum I was among the last ones and I didn't want to cloy tired listeners with figures and percentages, so I started telling jokes about cosmonauts," he told FNE. He woke up the audience, and suddenly Cosmonauts, which was to be mentioned at the end of his presentation about (another project) Things, became topic number one.
Kerekes' latest film Cooking History won the Special Jury Prize at Hot Doc in Toronto and honourable mention at the Planete Doc Review in Warsaw. "We experienced coming in second – and it is similar to being the second one in the selection for a cosmonaut," Kerekes said, describing the source of the idea that led to the new project. The film will explore human stories of second-place cosmonauts from the USA, former USSR, Israel, and post-communist countries…
Cosmonauts is currently in development. The treatment is due by September 2009, with a script by autumn 2010, and shooting in 2011.