Peteris Krilovs: Deconstruction of an Artist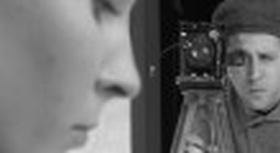 Tuesday evening May 6, Riga, the old fine cinema in the middle of the city.
I am invited to the premiere of a film, that I have had the privilege to follow for a couple of years. The director Peteris Krilovs and his producer Uldis Cekulis attended two MEDIA Training Programmes that I was involved in: Ex Oriente and Archidoc, and NOW was the moment to present the great, well crafted and well told story about the artist Gustavs Klucis, who was part of the Russian avant garde movement, served the Stalin propaganda machine and ended as a victim of the same regime. One day they came to get him…
The film has everything: wonderful archive footage, brilliant and playful sequences where the film team (including young Danish editor talent Julia Vinten) deconstructs the work of Klucis, makes small films "within" the film and puts it together again, thus demonstrating his actuality for modern design. There is a very moving sound track with letters from his wife, with the director's own fine text and some gently performed reconstruction scenes, an effectful accompagnement to the deconstructed photomontages and powerful music.
The version I saw in the full cinema was the local one – Russian and Latvian language – feature duration, the English version is to be made now, as are the tv versions. History, art, an interpretation of a period and a flamboyant artist. A search for a cinematic language and a dynamic that could have been the one that Klucis would have chosen had he been a filmmaker.
I had decided not to review the film, I am biased, but anyway my entusiasm is evident: all you festival and tv people out there, watch out for this film, it has a big audience potential, far beyond the happy few who are in the art circle.
Thanks for the invitation to my dear friend, the MEDIA Desk Latvia, wonderful Lelda Ozola, who not only gave me the chance to be at a premiere but also through meetings to be updated on the Latvian documentary scene that I have followed since 1990, thanks to the Baltic Film/TV Festival and Baltic Media Centre on Bornholm.
and if you are near den Haag in Holland, there is an exhibition of Klucis works:
http://www.gemeentemuseum.nl/index.php?id=035437&langId=en